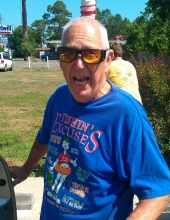 Obituary for Dennis Wayne Sundholm
A wonderful man crossed the finish line of life on Tuesday, February 6, 2018. We are sure he chose this date because Ivy needed a dance partner on her birthday!

Dennis is predeceased by his wife, Ivah Sundholm, and his parents, Hilding G. and Helen Neumann Sundholm. He is survived by his three sons, Martin (Rhonda) of Nassau Bay, TX, Michael of Truckee, CA and Matthew (Pam) of Panama City, FL. He will be missed greatly by his grandchildren, Dennis, Daniel (KaCie), Matthew, Marcus, Michaela and Danica, as well as his great grandchildren, Nicholas, Kadyn and Benjamin Sundholm.

Dennis was born in Ludington, MI on May 27, 1932, graduating from Saint Simon High School in 1950. He received his B.S. from Central Michigan University in 1954, enjoying membership in Tau Kappa Epsilon. He obtained his M.A. from Michigan State University in 1963.

Dennis was a teacher from 1954 to 1990, teaching in Flint MI, Los Angeles CA, Custer, Scottville and Sandusky MI, and finishing in Grand Island NY.

Dennis should have been born a Pisces, as he was an 'on the water' type of guy. From Ludington (on Lake Michigan) to Los Angeles (on the Pacific Ocean) to Sandusky (15 miles inland from Lake Huron) to Grand Island (an island in the Niagara River) to Panama City, FL (on the Gulf of Mexico), Dennis simply enjoyed being on a boat. He even worked summers on the Chesapeake & Ohio Lake Michigan ferry in the Fifties.

Following his retirement in 1990, Denny and Ivy moved to Panama City, FL. After sailing the beautiful waters of the Gulf for a while, they exchanged the sailboat for a 'land yacht'. This led to many, many trips across the USA. Most of the time, the RV headed west to Lake Tahoe to visit their granddaughters, but frequent trips to Michigan and Western New York were enjoyed too.

Dennis' oldest grandson, Dennis Coy Sundholm, proclaims that "Grandpa is the smartest man I've ever known." Dad lived life to its fullest and is probably showing Saint Peter the proper way to mix a bourbon Manhattan, and how to clean smoked chubs.

Thank you, Thank you, Thank you to Dick and Sharon McCleary for all of their love, support and friendship. "Dickie" (as Dennis called him) and Dennis enjoyed a 50 year friendship.

In lieu of flowers, please donate to Covenant Care or the Bay County Council on Aging, both in Panama City, or a charity of your choosing.