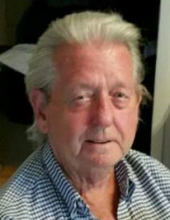 Obituary for James A. "Sonny" Marley
James A. "Sonny" Marley, 76, of Panama City Beach, FL, passed away at Bay Medical Center on Monday, January 29, 2018. He was born January 18, 1942 in Grandin, MO.

Sonny was a veteran of Foreign War and served in the United States Army. After his military service, he worked and retired from General Motors in Marion, IN. Sonny could often be found at karaoke listening to family and friends sing. He also loved playing pool, fishing, and loafing around. He would refer to himself as a "Professional Loafer."

He was preceded in death by his parents, Elmer James and Ethel May (Thompson) Marley; brother, Willard B. Marley; sister, E. Jane Denham; and grandparents, William Elmer and Elsie May (Evans) Marley.

Those left to cherish Sonny's memory include his son, Charlton C. Marley (Heidi); granddaughter, Amber Marie Marley; great grandson, Charlton Sonny Allen Marley; and several nieces and nephews, and numerous friends.

A celebration of Sonny's life will begin 2:00 P.M., Monday, February 19, 2018 at Heritage Funeral Home with Chaplain Chad Reister officiating. The family will receive friends beginning 1:00 P.M. prior to the service.