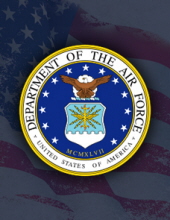 Obituary for Gale Richard "Rick" (Yandell) Stanford
Gale Richard "Rick" (Yandell) Stanford, of Panama City, FL, formerly of Salem, IL, went to be with his Maker and reacquaint himself with loved ones who had passed before on June 25, 2018. He will always remain in the hearts of those who knew and loved him.

Rick served in the United States Air Force during the Vietnam War where he was awarded the Distinguished Flying Cross, National Defense Service Medal, Vietnam Service Medal, Republic of Vietnam Campaign Medal with Device and Air Force Good Conduct Medal among others.

The last 16 years before his retirement in 2015, Rick worked as an 18-wheel dump truck driver for Beelman Trucking out o Carlyle, IL. To all his Beelman friends, he bids a fond farewell and he'll see you down the road. Rick was an avid fisherman, loved fishing Beelman's Pickneyville Lake and deep-sea fishing in Florida.

Rick was born August 27, 1947 in Salem, IL to Martha (Helpingstine) and Paul Yandell. He was lovingly raised by Martha and William Merle Stanford whom he called "Dad." Rick married Gayle (Berry) on July 19, 1986. He called Gayle his "Loving Bride" and she called him her "Better Half." Their nearly 32 years together was a truly loving marriage.

Rick was preceded in death by his mother Martha, dad William, father Paul, brother Johnny, grandparents, and several aunts and uncles. Rick is survived by his wife Gayle of Panama City, FL, step-daughter Laura, grandchildren Jaz and Kyler, great grandson Christian all of Texas, sisters-in-law Linda (Gene) Fellerman and Zenobia Hollembeak of Panama City, FL, sister Val (Carl) Whitaker of Califonia, brother Arthur (Patti) Stanford, sister Janet Stanford and nephew Damien Stanford of Iuka, IL, uncles Irvin and Glenn Stanford and aunt Martha Helpingstine of IL, and many other aunts, uncles and cousins. Also surviving are his best friends Mike (Kathy) Smith of Arizona, Lucky (Cindy) Blackwell of Tennessee, and special cousin Delmer (Iris) Stanford of Iuka, IL. One of his greatest joys in his later life was getting to meet and know his extended Yandell family, beloved Val, Carl, aunt Polly, Pam, Max and Debbie.

Per Rick's wishes, cremation rites will be performed and there will be a memorial service on a later date.
Events
Event Information
Memorialization will be by cremation.