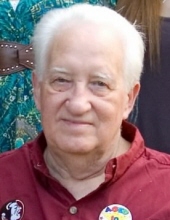 Obituary for David Rogers Beecher, Sr.
David Rogers Beecher, Sr., 86, of Panama City Beach, passed away Saturday, June 30, 2018. He was born July 29, 1931 in Houston, Texas and graduated from Marlow Consolidated High School in Marlow, Georgia. Upon graduation, David attended Brewton- Parker Junior College, Georgia Teachers College, and Ohio State University, where he earned his Master's Degree. He was a Christian by faith and proudly served his country in the United States Air Force. David spent his life in service to his fellowman of all walks of life. He retired to Panama City Beach and enjoyed teaching his grandchildren to fish, going to the beach, and marveling at God's creation.
He is preceded in death by his parents, Mark A. and Roselyn R. Beecher; maternal grandparents, Samuel D. and Laura (Hodges) Rogers; paternal grandparents, Augustus H. and Mary Jane (Phillips) Beecher; and two brothers, Mark A. and Jack T. Beecher.
Those left to cherish his memory include his wife of 61 years, Lee C. Beecher; three daughters, Deborah B. Kale (E. Daniel), Sarah R. Beecher, and Elizabeth B. Anderson; son, David R. Beecher, Jr.; grandchildren, Jennifer Swanepoel, Natalie Kale, Ashley and Michael Peterson, Joshua Smith, Savannah, Madison, Jack, and Luke Beecher, Lauren Erison (Jacob), Kylie, Micah and Aaron Anderson; great grandchildren, Lilly and Chris Swanepoel, Mason Erison, Eliza and Maggie Peterson, and Kaden Anderson; brother, Bobby O. Beecher; friends, Rick and Linda Russell and Diane Skoriak; as well as numerous nieces, nephews, cousins, and friends.
In lieu of flowers, memorial contributions may be made to an organization of your choice.
A Celebration of David's Life was held Wednesday, July 4, 2018 at his residence.