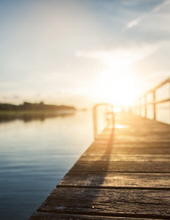 Obituary for Bobbie Jo Rench
Bobbie Jo Rench, age 48, of Panama City Beach, FL, went to be with the Lord on 9/7/2018. She was born on 5/9/1970 in Spirit Lake, Iowa.

Bobbie Jo grew up spending summers in Iowa with her grandparents, whom she adored. She graduated from A. Crawford Mosley High School in 1988 where she was active in R.O.T.C. Bobbie Jo had a very big heart & was always concerned about everyone she cared for. She was generous but true, always speaking her mind. She lived her life just how she wanted to. Her passion was her love of animals, especially cats.

Bobbie Jo spent her adult years as a server at Loco's, Angelos & Margaritaville in Panama City Beach. She enjoyed traveling and always welcomed an adventure. One of her favorite pastimes was scratch off lottery tickets, which she was very lucky with! She enjoyed spending weekends in Biloxi, where she loved gaming, hot tubs & relaxing.

Bobbie Jo was preceded in death by her grandparents, Dale & Jeanette Rench. She is survived by her Mother, Debra Jennings & her Father, John Brouchous and his wife Connie, along with Bobby Payne, who was a very special person in her life.

Additional survivors include Diane Zimmerman Stehr, aunt; Brian Gibson (Stacie) cousin; Shirley Perez (Robert) great aunt and her dearly loved cat, Seth. Numerous other great aunts, uncles, cousins, step sister's and brothers, friends, co-workers and close friends Sherryl Watts, Tracy Mason, Robin Rowe (Larry) & Walter Bell.

She will be dearly missed by all who loved her, especially by her Mother & best friend, Debra.

A "CELEBRATION OF LIFE" will be hosted by her loving mother, Debra Jennings on September 23rd from 1PM-3PM (This chosen date was her beloved grandmother's celebration of life, 19 years prior, whom she always considered her guardian angel). Bobbie Jo's zest for life was her loving grandparents. All family, friends, and co-workers are invited to toast her generous soul and caring personality. All guests will be received at 406 East Caladium Circle Panama City Beach, FL 32413. Please come and join in the remembrance of her joyous spirit. We were all so blessed to have cross paths in her journey of life. Now she is dancing in the skies and drinking a beer. God be with you all!
Previous Events
Celebration of Life
Bice Family Home
7304 Rachel Way
Panama City, FL 32404
406 East Caladium Circle Panama City Beach, FL 32413